Packers and movers in pakistan, essentials to consider in 2023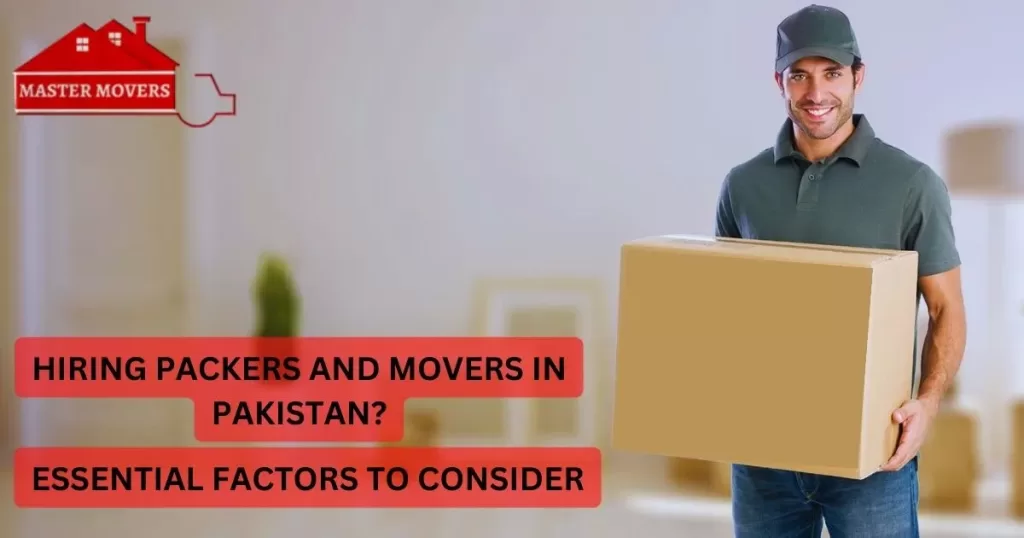 Relocation to a new place is a sort of necessity. There are multiple reasons for moving from one to another location. The moving process can be problematic in the case of doing it by yourself. So hiring Packers and Movers in Pakistan will be convenient for you. It will simplify the entire process of packing and moving. It is fact, there are multiple aspects to the moving process. First, you have to prepare your mind about relocation. Then decide to hire a Professional Packing and Moving Company. After packing of items, the relocation process starts. It is how your moving process ends. Hiring Professional Movers in Pakistan is the best option for you. If you want relief and satisfaction in your relocation, do hire Best Movers.
Packers and Movers take all responsibility for your move
A Moving Company acts like a bridge between you and your destination. It will lighten up your burden. It not only takes off your burden but also makes your move smoother. Professional Packers in Pakistan work professionally. They work on customers' demands. Under their supervision, everything runs smoother. Because of them, you will have a safe and secure move. Without disturbing your work routine, you can have on-time and quick moves. Professional Moving Services will benefit you a lot. A prerequisite for Transportation or relocation is having comprehensive information. You must be aware of all the Packing and Moving companies. There are a lot of Moving Companies in Pakistan that are well-recognized. That is why, it is up to you to choose the best Movers in Pakistan.
Prefer those Movers and Packers who honor your priorities
However, there are some essential factors that you must take into your account. Before preparing for your move, keep all these aspects in your mind. Hence, this blog highlights those crucial factors that you should consider before hiring a Packing and Moving Company.
Most people prefer DIY (do it yourself) moving. It will not be suitable. Rather, it comes with a lot of unnecessary risks. These can ultimately slow down the whole Home Relocation Process. To move the goods, handling matters a lot. There is a variety of goods manufacturing. Sometimes handling and moving heavy furniture or other goods will harm you badly. You can damage not only yourself but also your items. But, Professional Movers and Packers in Pakistan can prevent you from any loss.
For mental satisfaction and top-notch services, you need the Best Home Movers. So you must be aware of movers' priorities about handling the items. If they are executing useless and unnecessary plans, do not choose. Those Movers who give priority to safety first will be the best choice. They will value your Precious Goods. Do analyze their way of working. If their handling is conscious and thorough, then they are reliable.
Whenever anyone tries to take any service, the first thing that comes to mind is the price. Everyone is conscious of money. So if you are going to take a Moving Service, be conscious. Different Packing and Moving Companies charge differently for their services. You need to know first about the reliability of their service. And then go towards the budget setting. You can determine this if they offer a reasonable range. The budget varies because of some reasons. The first reason is the moving distance. Your moving cost totally depends upon the distance. Longer distance means high cost. If you move locally, it costs less than an International Move.
Another factor is the number of items. A high amount of goods take much time to load and manage. So you will expect to pay more. Price also matters if additional services will be there. But Professional Movers and Packers in Pakistan will manage a cheap and affordable budget.
In the Moving Process, the size and weight of items matter a lot. Moving Companies take great care of the vehicles for the handling of items. They have multiple-size vans and trucks according to the nature of the item. It is up to you which option you choose. Because trucks are the safest and most reliable for both local and cross-country moves. If the size and weight and miles increase, it will cost a lot. So be careful by calculating each possible option. Professional Moving Companies in Pakistan will make a suitable budget, as size and weight add up the cost significantly.
A Professional Moving Company for your Local Move will offer you the most reliable, fast, and convenient services. It can be executed with the aid of the best moving equipment. Actually, a well-equipped Packing Company will save you money and time. It will ensure you quality services for your move. You don't need to buy moving tools and supplies. The Professional Mover will offer you a well-equipped moving service. It will also prevent unnecessary damage or injuries. These well-equipped moving tools include safe vehicles, moving dollies, moving straps, scissors, packing tape, stair rollers, and moving pads. So before hiring any mover, do confirm the mover's preferences.
Reputation of Moving Company
Before hiring Packers and Movers in Pakistan, first, do thorough research. A legitimate Moving Company will never cause any loss to you. A trustable Packing Company can easily build reliable connections with customers. Trust is the foremost necessity for any business. So once the trust is built, you will have mental satisfaction. Thus, to check their reputation, do check their licensing, certifications, reviews, feedback, customer's personal experience, and testimonials. Professional Moving Services will make your move smooth and convenient.